PARTNER

Komatsu Forest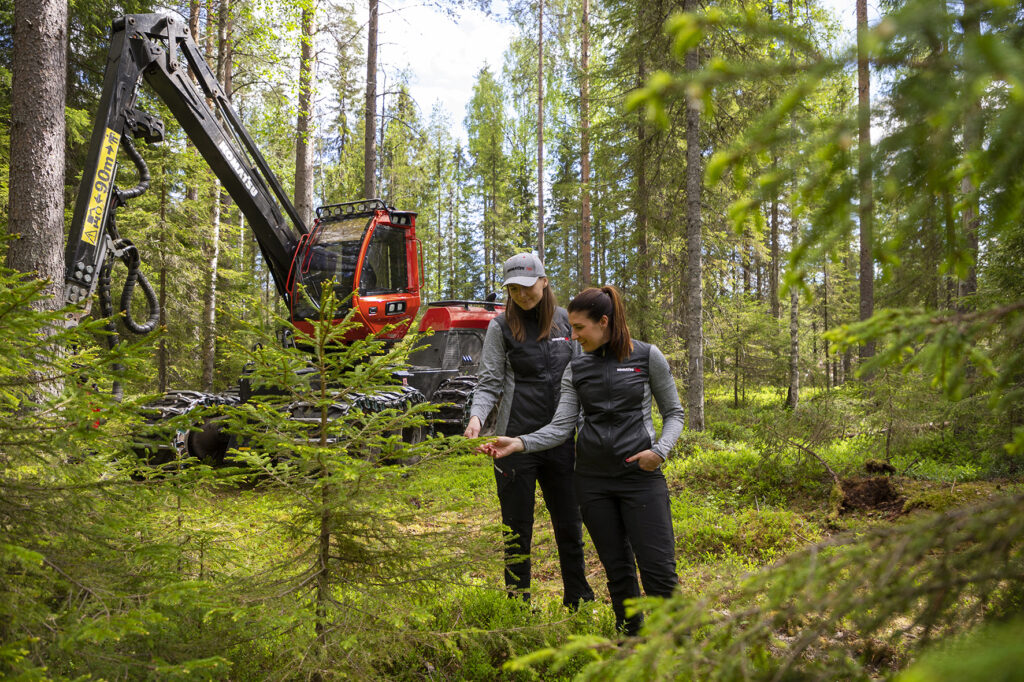 Responsibility for a sustainable future is shared and shared by all of us. For us as a machine manufacturer, we look at sustainability from several perspectives. Partly how we work in our business and partly how our machines can be environmentally gentle on their surroundings. But also how we as part of a whole can help make the world a better place to live.
At Komatsu Forest, sustainability is a matter of course both today and in the future and we have chosen to integrate it as an active and natural part of both development work and production. We also expect our partners and suppliers to share our view of sustainability, both in theory and in practice. Thanks to good cooperation, we become strong and can work together towards sustainable goals.
Why is it important for Komatsu Forest to work with sustainability?
"As part of a whole, we want to contribute to sustainable forestry where we contribute to the rejuvenation of the forest in a sustainable way. To achieve this, we work hard to increase understanding both in our business and in everyone around us," says Martin Ärlestig, Global Production Manager at Komatsu Forest and one of the initiators of the initiative.
"Working sustainably is also an opportunity for ass to contribute to a more equal society right through, where our activities can be integrated into society. At the same time, sustainability is a survival issue, both to attract the right employees and to maintain a strong brand. Simply to remain competitive.
What do you hope to achieve together with the other companies and organisations in the collaboration platform Viable Business Hub?
"We are convinced that together we can go further than we can do ourselves – we depend on each other. Thanks to the collaboration platform Viable Business Hub, we are given the opportunity to exchange knowledge between each other," says Charlotta Östmalm, Environmental Coordinator at Komatsu Forest and co-leader of the joint project.
"The collaborative structure also creates a driving force forward for all of us. Komatsu Forest is a big player in the region, but we can't do without the surrounding companies, such as our suppliers. Not only do we want to help make the region stronger, but we also want to help lift businesses here. Viable Business Hub is a concrete way to show that we work actively with sustainability issues, says Martin Ärlestig.
How can sustainability become an important part of the company and the business?
"Sustainability issues are an important part of our values. It is not something you can do without and is important for the trust of employees, customers, suppliers and other stakeholders.
We are also working towards clear goals in terms of sustainability; such as share of renewable energy, carbon reduction from the plant, CARBON dioxide emissions from our machines, reduced waste and water consumption.  With common values, we can create a pride and commitment that drives us forward," says Charlotta Östmalm.
What successes have you had so far in your sustainability work?
"If we compare ourselves to other companies, we have come a long way in terms of energy and we have been successful in our efforts to become carbon neutral, which we are basically already today." With the new plant, we are taking another step forward, as renewable energy will be a central part of both electricity and heat and the property itself will be extremely energy efficient. But we have also worked hard with sustainable solutions in areas such as machine driving in the area, water consumption and environmentally efficient painting plant," says Charlotta Östmalm.
"The vision of the project is to build the workplace of the future where social sustainability is a central part. With people in focus, we want to be able to offer sustainable solutions for employees regarding how to affect the environment even while you are not in the workplace, for example around communications and resource sharing. We also want to contribute to creating security in our environment and create increased added value for both employees and stakeholders with a sustainable society in focus, says Martin Ärlestig.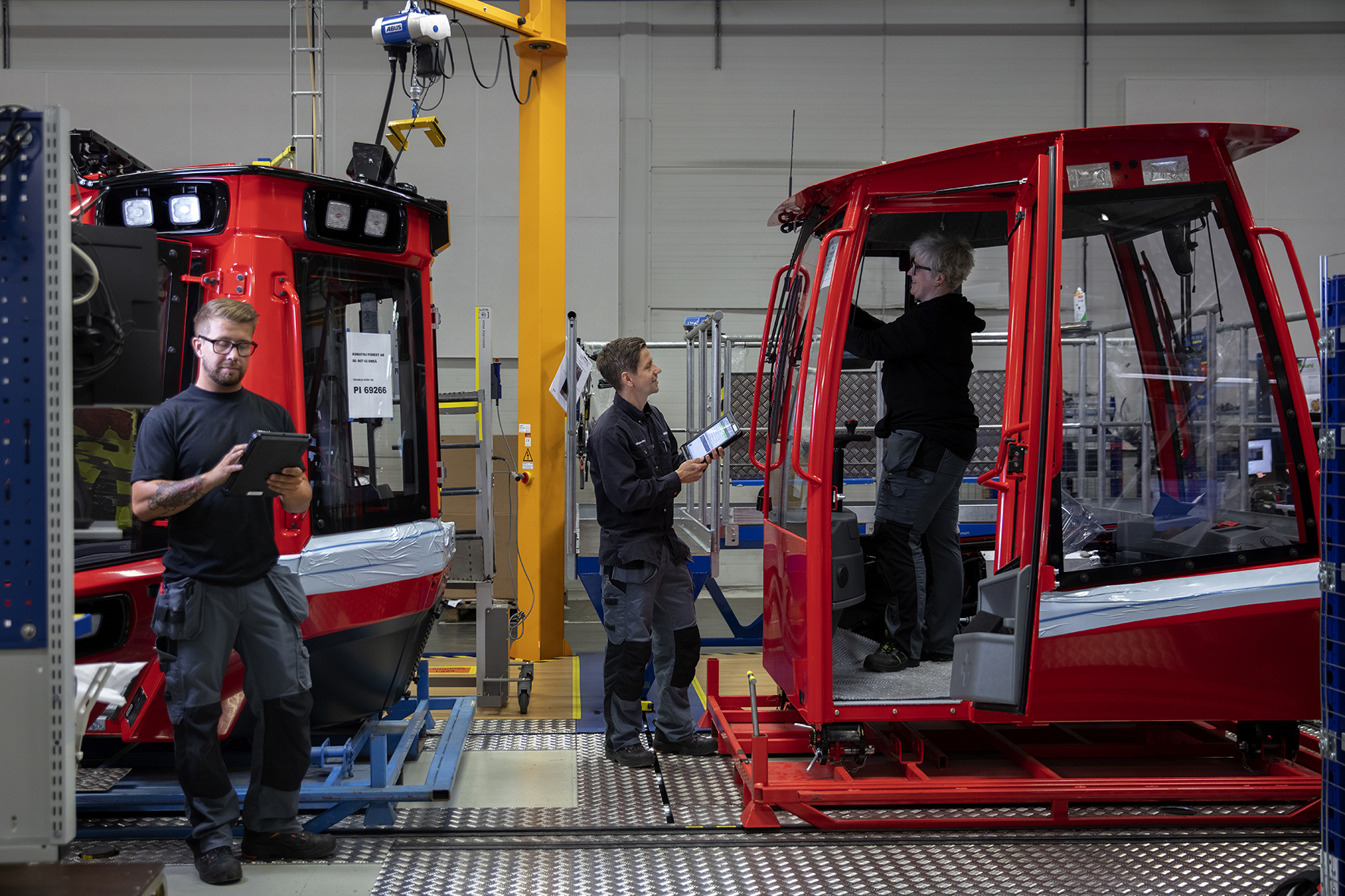 What are the important challenges that we can tackle together and find solutions?
"For us, it's important to look at sustainability from a life cycle perspective where we look at the big picture. It therefore feels important to also look outside the region and see everything in a larger perspective. One challenge that we see is to work circularly. What is waste for us can be useful to someone else. An example could be used packaging, which for us is waste but could be a raw material for someone else," says Charlotta Östmalm.
"The sub-project "Circular industrial area Klockarbäcken" is about building an industrial environment with a focus on circular and sustainable solutions with the goal of creating a CO2-neutralindustrial environment. Here it is important that we include subcontractors and other actors who are interested in, for example, sharing resources with each other. The sub-project is large and may be divided into further subprojects, Continues Charlotta Östmalm.
"Being at the forefront when it comes to sustainability issues is a prerequisite for driving our business forward. By helping to create awareness of this project throughout the region, where we are today and where do we want to do this, we can also inspire more people to work in the same direction and together create the conditions for a sustainable future," concludes Martin Ärlestig.